Sending Your Teen With a Mood Disorder Back to School
Wednesday, 21 August 2013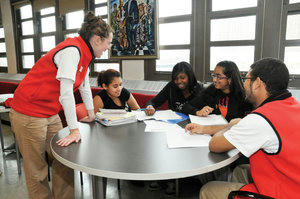 Across the country, middle and high school students are preparing to enter the classroom again in the coming weeks. This time can be exciting for students looking forward to catching up with their friends and checking out their new classes. It can also mean a new load of triggers for teens with depression or bipolar; waking up early to get to school, staying up late to catch up on classwork, and extracurricular activities that take up a few hours each day can leave students feeling exhausted and stressed out. Below is a list of ways you can work with your teen and their school to ensure a smooth academic year.
Special thanks to Charlene Gooch, PhD, MFT for contributing to the compilation of this list.
Keep a schedule and follow it. Often, teens will do better when they know what to expect each day. For many, knowing that they will be able to come home and rest for a bit, or that they have soccer practice after school may help the more stressful parts of the day run more smoothly.
Keep lines of communication within the family open. It's important for teens to feel comfortable reaching out to any member of the family in the case of a mental health concern. This is especially helpful if your teen has siblings in whom he or she may be quicker to confide.
Encourage healthy friendships. Young adults can crave acceptance from peers. They also crave close friendships. Encourage your teen to widen his or her support network to school friends and peers
Identify a trusted adult ally within the school. You may never have to call them in an emergency, but it's good to make a trusted person within the school aware of your teen's situation. Maybe your teen already has a good relationship with a teacher or a counselor who can assume this role for your family.
Include your teen in conversations with administrators. Some teens are mature enough and want to be involved in conversations about their health with the authorities at school. Empowering teens to advocate for themselves will help prepare them for managing their mood disorder and treatment in adulthood.
Ultimately, the more your teen feels comfortable accepting his or her mood disorder, the more he or she will be willing to be an active participant in treatment. With your support, and the support of family, friends, and other caring adults, your teen can have a great school year!
Additional Resource:
Check out our Teen Depression Programming